What to expect at your eye exam:
Maintaining healthy eyes and clear vision is essential to experiencing all that life has to offer.  Whether you are coming for your first eye exam or your 80th, we strive to make your experience comfortable, memorable, and fun.  We truly enjoy what we do and would love to include you in our practice.   During your exam, we will take the time to talk about your vision needs and concerns, so please tell us about your work environment and your after-work hobbies.  We love getting to know you and will tailor your vision correction needs so that you can be most efficient while performing the daily tasks that matter to you most.  The latest in diagnostic technology will be used to assess the health of your eyes and measure your prescription for glasses or contact lenses.
Dilation and Optomap: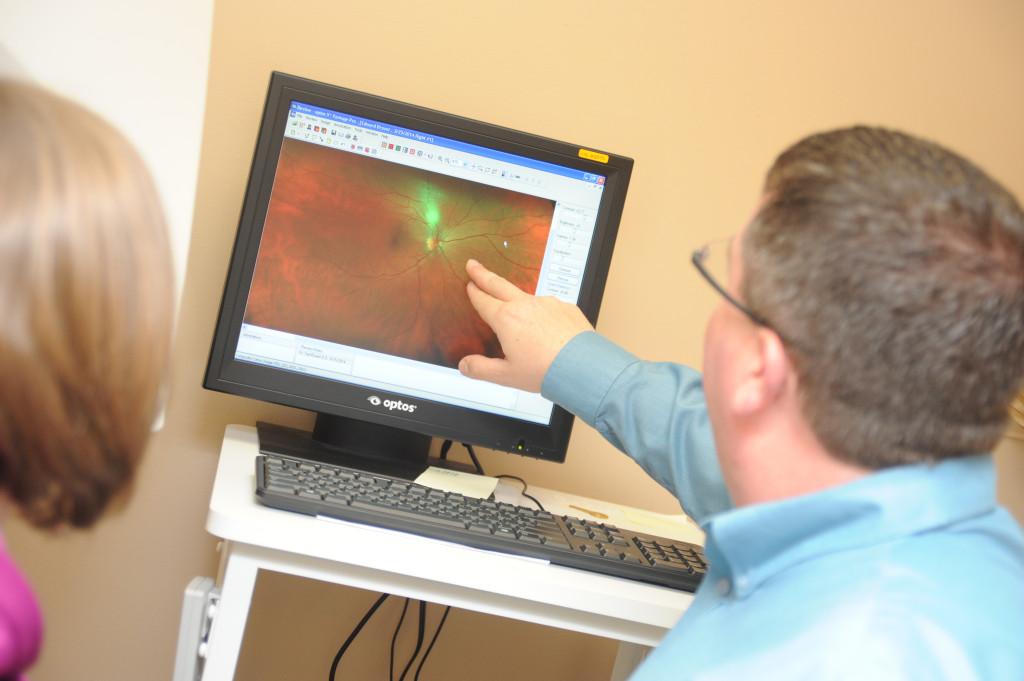 In order to examine the back of your eye for disease, the effects of hypertension, or diabetes, we recommend each patient include either pupil dilation or Optomap as part of their annual eye health examination.
Dilation:  Drops are used to enlarge the pupil and allow us to see the back of the eye.  The effects of dilation generally last 3-4 hours and some patients will experience light sensitivity and blurred vision while reading.  We recommend you bring someone to drive you home after your exam if have not had your pupils dilated in the past and are unsure of the effects.
Optomap retinal scan:  This state of the art technology allows your optometrist to view an ultra-widefield view of the back of your eye WITHOUT PUPIL DILATION or any visual side effects.  The instrument works like a digital camera and captures a 200 degree image of the inside of your eye in a split second.  Dr. Bryant will explore your images with you and offer you the opportunity to see the inside of your eye first hand.  This technology allows you to get back to your busy life without blurred vision or light sensitivity, while giving you peace of mind in knowing that your eyes are healthy.  Feel free to call our office to learn more about the Optomap experience!
Patient Forms
Upon your arrival to our office, you will be asked to complete a minimal amount of paperwork. We ask all patients, new and existing, to update information at their annual visit. If you would like to complete your update ahead of time, please print out our Patient Information Form.
Privacy Practices
IMPORTANT: As of April 2018, we have completed an update to our Notice of Privacy Practices. All patients, new and existing, will be asked to review our updated notice and sign to acknowledge their compliance. An auxiliary document, the HIPAA Authorization for Use or Disclosure of Health Information, gives you the opportunity to describe when and how you would like us to use your health information (for disclosure to family members, doctors, etc.)